Ed Stauff & Mary Ellen Wessels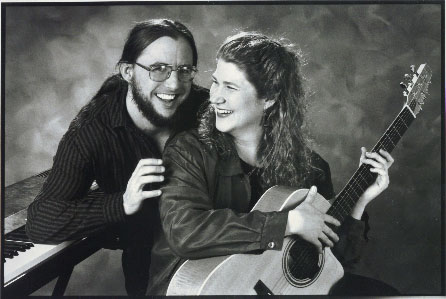 Photo by Susan Wilson
"Big voice, big heart - Mary Ellen Wessels is a pleasure to hear." -- Fred Small
Click here for other quotes about Hopeful Romantics, Ed and Mew.
---
Recordings
Champlain Summer Ed's solo piano CD
Notes, Ordering Info, Sound Clips etc.
Current Obsessions Mary Ellen's vocal CD - folk with jazz influences.
Ordering Info. Sound Clips coming soon!

A place to buy "stuff". Right now it is mostly books mew thinks are great but eventually we'll add other things.

Where to Find Mew & Ed

Professional, profound, or just plain silly - Where to get the
"Bird's eye low down" on us "whatever that is".

Mary Ellen was teaching voice lessons but has been working on getting her M.Ed. and getting a full time teaching position. She still gives workshops on a variety of subjects and the above link can give you some background. She would consider special arrangements for beginner lessons. For more information on vocal nodes check this page out.

Useful, fun, or interesting... Musical and not. You can buy books and CDs connected to my favorite authors and musicians right off my page from Amazon.com and it won't change your price but we'll make a little money. Whee!

Can't be explained, must be experienced.

Casual, silly, possibly incriminating photos of Ed and Mew and friends.